If I told you there's a small island with golden sunsets you can visit, where wild ponies roam, bald eagles fly and dolphins swim in its calm waters, you're probably thinking I'm talking about something I read in a romance novel. I promise you, it's real.
Located not too far off route 13 on the northern end of Virginia's Eastern Shore and about 1 hour south of Ocean City, Maryland, Chincoteague is a small and quiet island with a Native American name meaning "beautiful land across the water." You won't find boardwalks or Ferris wheels here like you do other places on the coast. But Chincoteague is famous for two things: their fresh oysters and their band of 150 wild ponies who roam on the nearby Virginia half of Assateague Island believed to be descended from survivors of a Spanish Galleon that once shipwrecked just offshore. The island's most notable event called the pony swim brings thousands of visitors each July who come to witness the horses herded for a 4-minute swim across the narrowest part of Assateague Channel at low tide back to Chincoteague Island.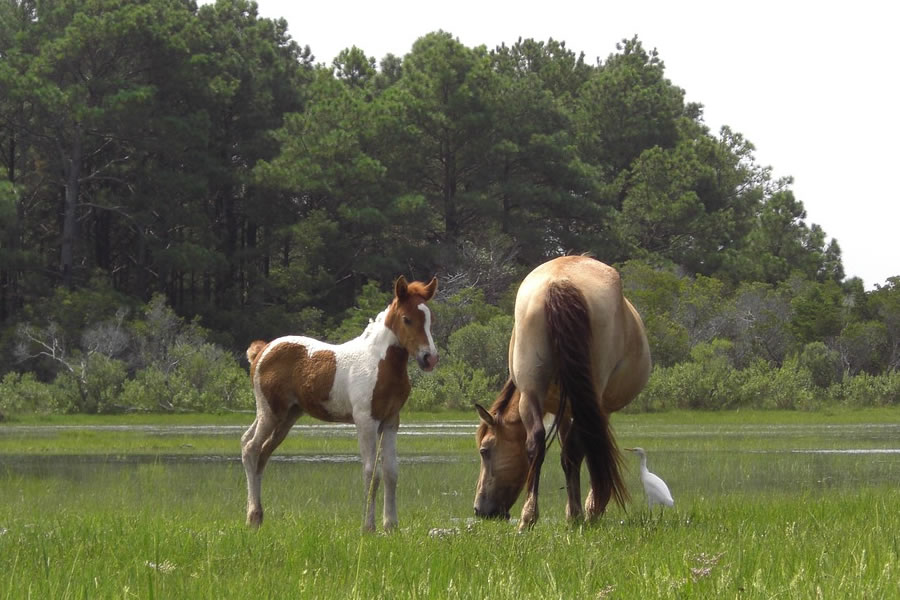 For a usually quiet island that's only 3 miles wide by 7 miles long, Chincoteague has plenty to do all year round and not just when the ponies are swimming. There's horseback riding, bird-watching, boating, kayaking, canoeing, paddle-boarding, swimming, fishing, clamming and crabbing, and swimming. You can bike or hike through over 15 miles of trails to explore in the Chincoteague Island National Refuge located in the adjacent Assateague Island, which is home to more than 320 species of birds and where the wild ponies roam. Here you'll also find recreational beach access with some of the mid-Atlantic's most beautiful coastline only a few minutes from downtown Chincoteague.
Even driving to the island is a fun excursion in itself. Once you turn off route 13 to get to Chincoteague you have to pass by NASA's Wallops Island Flight and Visitor's Center where, even if you're not into "space" you'll find their huge satellites and rockets on display and easily visible from the road impressive. If you are fascinated by rocket science and aerospace technology, plan your visit around one of their rocket launches which can be seen from the visitor center or from many viewing spots around the island.
After passing NASA's visitor center, a scenic 7-minute drive over Chincotegue's main bridge will land you in the center of Chincoteague and at the intersection of Maddox Boulevard and Main Street, the island's only business district roads and where you'll find most of the island's restaurants, shops, and hotels. Quaint and historic with bay views, Main Street also has an old movie theater, a library dating to the 1890s, eclectic boutiques and antique stores for shopping. If you love to eat, Chincoteague's thriving gourmet food scene of restaurants, to-go stops, and food trucks, serve up everything from the freshest seafood, including clams and oysters grown in its own waters, to sandwiches, BBQ, pizza, authentic Mexican, Vietnamese, legendary ice-cream, world-class croissants and more.
Here are some of the things we did, ate and where we stayed during our short, but memorable visit to the island:
Where To Stay
The Channel Bass Inn and Tea Room
6228 Church Street Chincoteague, Virginia 23336
ChannelBassInn.com
757-336-6148
You won't find any high-rise resorts on Chincoteague, but it still has its fair share of accommodations, from small hotels to vacation rentals. But for a more memorable and intimate experience, book the Channel Bass Inn. A bed and breakfast located just off Chincoteague's Main St, the Channel Bass, built-in 1889, is a historic bed & breakfast within walking distance to some of the island's best shops and restaurants. If you're into ultra-sleek interiors with iPod docking stations around every corner then this may not be the place for you. But if you find historic homes, vintage art and furnishings, and dreamy wild English gardens charming then the Channel Bass is your own slice of heaven waiting for you on Chincoteague. It was for us.
Owned and lovingly run by innkeepers Barbara and David Wiedenheft since 1995, the moment you set foot inside the Channel Bass you feel totally at peace, comforted and cared for like you've just returned to an old family home. Like most B&B's each of the beautifully decorated guest rooms, complete with their own private bathrooms have their own distinct personality ranging from cozy to supremely spacious.  Our room called the Wensleydale was on the spacious side of things with a lush sitting area that I enjoyed relaxing in while winding down at night. We found the large king bed incredibly comfortable and the suite unbelievably quiet and peaceful as it looks out over the inn's gardens. The suite's private bathroom was lovely too.
Usually, I love to sleep in, but I was looking forward to the mornings at the Channel Bass and starting my day with their life-changing freshly brewed French Press coffee and one of Barbara's lavish perfectly made to order breakfasts. Try her world-famous (or they should be) Mexican eggs, freshly baked morning breads, muffins or sweet baked apples and you'll soon realize you've been breakfasting all wrong. Barbara only uses locally pastured farm fresh eggs specially delivered from Seaside Farm in Atlantic, VA and is happy to customize your breakfast if you have any dietary restrictions. When the weather is on your side, opt to enjoy your breakfast in the lush garden listening to the peaceful sounds of the fountain.
While the inn is the perfect place to stay and relax, if you want to head out to the beach for a day of sun and sand on Assateague Island (only 2 miles away), the Channel Bass has plenty of gear for you to borrow, including beach chairs, beach towels, umbrellas and bikes if you care to go for a ride. If you don't feel like driving to grab something to eat at night, simply take a short stroll to one of the great restaurants nearby like Bill's Prime & Seafood, Don's Seafood, Ropewalk, Chincotiki, Saigon Village or Backyard Firepit. At the Channel Bass you really want for nothing, except to be able to return time and time again.